Replace Missing Teeth with Dental Bridge
With Dental Bridges, the sooner we replace, the better.
Inspired by our commitment to the latest, most effective Prosthodontic treatments, we're pleased to provide both Digital Designers and CAD CAM based bridges and Crowns Treatment in Chandigarh.
From prevention and diagnosis to repairing and rejuvenating your oral health — we're with you every step of the way. At ADC - Center for Restorative and Implant Dentistry, we offer high-quality dental bridge and crown treatments to restore your smile and improve your oral health. Our experienced team specializes in providing effective and aesthetically pleasing solutions for replacing missing teeth and addressing dental issues. Learn more about dental bridges and crowns and how they can help you regain confidence in your smile.
What are Dental Bridges and Crowns?
Dental bridges are false teeth that are held in place by the abutment teeth on either side of the gap. They're made from porcelain or Ceramics to aesthetically blend along with your natural teeth. Dental Crowns "crown/cap" are often required when the tooth has been Root canal Treated or severely damaged by the decay and are best restored by a crown/cap over it. Sometimes dental crowns can also be used for smile designing/cosmetic procedures for improving color and the shape. Dental Bridges and Crowns can address the following challenges such as restoring your smile, restoring the ability to properly chew, restoring your speech and pronunciation, maintaining the shape of your face, re-adjusting your bite to properly distribute the force when you chew, preventing your remaining teeth from moving out of the correct position.
Procedure Duration : Usually 30-45 Minutes per Appointment. Depending upon number of teeth.
Anaesthesia:

Local anaesthesia is given but may not be needed.

Post operative Check-up: Required Annually.
Shelf Life:

Results can last for 6 to 15 years with proper dental hygiene.

.
Healing Time: None
Possible Risks: May include thermal sensitivity in some rare cases.
Digital Dental Crowns & Bridge

To overcome difficulties associated with conventional techniques and accuracy, the impressions with Straumann (intraoral scanner) and CAD/CAM (computer-aided design and manufacturing) technologies have been included in our dental practice.
The implementation of the Scanning device in our dental practice coincides with use of CAD/CAM (computer-aided design and manufacturing) technology offering numerous advantages such as easier planning of treatment, communication with laboratories, reduced operative time, and reduced treatment times with high accuracy.
Metal Free Crowns
We will simply give your teeth a small scanning wand attached to a computer to take digital pictures inside your mouth. In seconds, the computer will generate a highly accurate 3D model of your teeth. But it gets even better.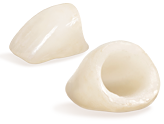 With the help of the CAD/CAM software, we will design your metal free bridges and crowns, while you wait for the most natural-looking result possible. We choose a block of dental ceramic material in the shade that most closely matches your teeth. The computer's digital design is transmitted to a milling machine that carves the crown from the ceramic block in about five minutes. Once we have verified the fit and made any aesthetic enhancements we deem necessary to the crown's surface (staining and glazing, for example), we will bond the crown to your tooth.
Implant Bridges and Crowns
For implant-supported crowns and bridges, patients have a series of procedures at ADC™- Centre for Restorative and Implant Dentistry in Chandigarh. Here is an overview of the process:
In an initial surgery, your doctor will place the implants within the jawbone. The number and location depend on whether you are receiving crowns, bridges, or both.
Over the next several months, the implants will unite with the bone in your jaw, giving them greater strength and stability.
In a second procedure the doctors will expose the implants. and a week later, the doctor will attach metal posts to the implants and take an impression of your gums.
Our practice will use this impression to fabricate your Dental Bridges and Crowns. We will place them and test in a follow-up visit and make any necessary adjustments.
Have some more Questions? We can Help You!